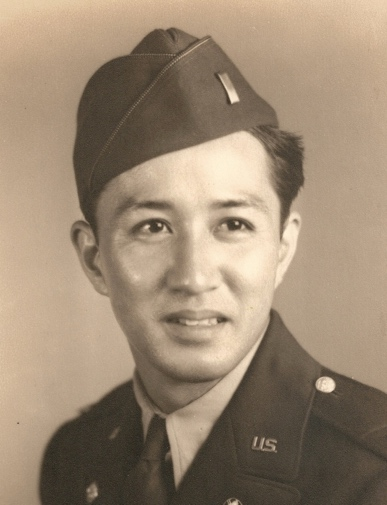 Toshio Richard Omori
Private First Class
100th Infantry Battalion (Separate), B Company
Toshio Richard Omoriwas born on October 1, 1919, in Laupahoehoe, Hawaii island, Territory of Hawaii, the youngest of seven children (six sons and one daughter) of Shikataro and Iwano (Yamasaki) Omori. His siblings were: brothers Shigeru, Hiroshi Kenneth, and Tadami Harry, and sister Chitose. Shikataro and Iwano were both born in Okayama Prefecture, Japan, in 1874 and 1879, respectively. They married in Japan and later emigrated to Hawaii. Shikataro arrived on September 8, 1907, on the S.S. Siberia from Nakasho village, Tsukubo District, Okayama Prefecture. Iwano arrived on the Taiyo Maru on September 4, 1913.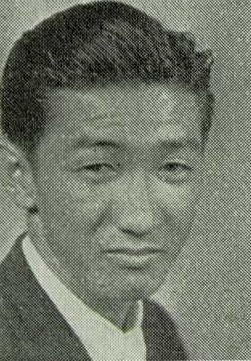 Toshio spent his first seven years in a mostly-Japanese plantation community in Laupahoehoe. When he was seven, his family moved to Kalihi and, then, Kalihi Kai on the island of Oahu. He attended Kalihi Waena and Kalihi Kai Elementary Schools, Kalakaua Middle School, and McKinley High School in Honolulu. In high school, he was a member of the Future Farmers of America (FFA).
Right: 1936 McKinley High School FFA club photo, when Toshio was a sophomore
On October 26, 1940, Toshio was a student at the University of Hawaii (UH) when he signed his draft registration card, Local Board No. 7, at Farrington High School. His point of contact was his father, he lived with his family at 632 McNeill Street, and he was 5'3" tall and weighed 110 pounds.
In November 1941, after three years at UH, he was inducted into the U.S. Army at the Training Center at Schofield Barracks. In January 1942, Toshio was a Rifleman (Private First Class) with G Company, 298th Infantry Regiment, Hawaii National Guard. In May 1942, he was shipped to the mainland on the S.S. Maui with other Nisei who had been formed into a provisional battalion from the 298th and 299th Regiments. Upon arrival in San Francisco, they were designated the 100th Infantry Battalion (Separate), and sent on by train to Camp McCoy, Wisconsin, for basic combat training – a first step in transforming the 100th Battalion into a fearsome, battle-ready infantry unit.
Upon arrival at Camp McCoy, Wisconsin, where Omori was an Assistant Squad Leader with B Company, but he was not destined to fight as an infantryman. In December 1942, Toshio was sent by the Army to Military Intelligence Service Language School (MISLS) at Camp Savage, Minnesota, for training as a Japanese language translator. He graduated in June 1943, and worked as a translator with the MIS. From October 1943 to September 1945, he was a Japanese language translator, assigned to Allied Translator and Interpreter Service (ATIS), Military Intelligence General Headquarters in Australia, translating medical documents.
After the war ended, Toshio returned to Honolulu and was discharged from the U.S. Army. He also returned to his studies at UH. He graduated in June 1947, with a Bachelor of Science degree in Biological and Physical Sciences.
On August 27, 1949, he married Betty Misono Kurasaki of Kapaa, Kauai, and they raised a family of five children. He reenlisted in the Army and throughout his career was stationed in Okinawa; Fort Bragg, North Carolina; Fort Holabird, Maryland; Japan; and Washington, DC.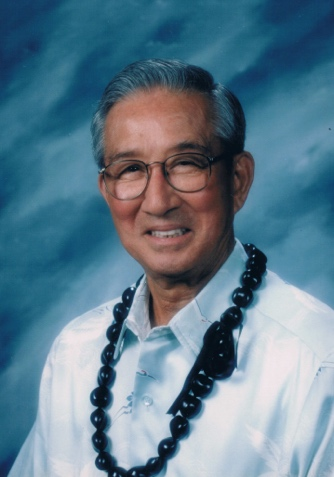 Left: Omori in later life
Omori passed away on February 18, 2017, in Annandale, Virginia. His wife Betty died a month later, on March 21, 2017. They are buried together at Arlington National Cemetery. As of this writing, their descendants include five children, seven grandchildren, and three great-grandchildren.
After retiring from the U.S. Army with the rank of Major, Richard worked as a civilian employee research analyst in the Office of the Surgeon General – Medical Intelligence Office, and also at the Armed Forces Medical Intelligence Center, in Fort Detrick, Maryland. Upon his retirement from government service, he enjoyed visiting his grandchildren, bowling, and golfing. An avid bowler all his life, he bowled with the Fort Belvoir Seniors until the age of 96.
Researched and written in 2021 by the Sons & Daughters of the Regimental Combat Team with the assistance of the Omori family.