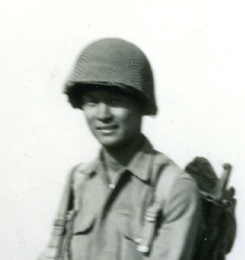 Victor Isao Yamashita
Staff Sergeant
442nd Regimental Combat Team
100th Battalion, D Company
Victor Isao Yamashita was born on May 15, 1924, in Wailuku, Maui, Territory of Hawaii. He was the son of Kametaro and Tsuya (Noguchi) Yamashita. His siblings were: brothers Shigeo and Sueo; sisters Tokiyo, Sally Tsuyuku, and Mieko Margaret. Kametaro and Tsuya arrived in Hawaii from Kumamoto Prefecture, Japan, in 1896 and 1914, respectively.
In 1930, the family was living on Vineyard Street in Wailuku and Kametaro was a gardener for a private family. By 1940, they were living in Happy Valley above Iao Stream. During the summer of 1941, Isao was among 150 young men from Maui, the University of Hawaii, Hilo, and Kohala who flocked to Lanai for prime pineapple picking jobs. He graduated from Lahainaluna High School on Maui.
Isao signed his draft registration card on June 30, 1942, Local Board No. 2, at the Wailuku Armory in Wailuku. His mother was his point of contact, he was employed in Lahainaluna, and was 5'8" tall and weighed 132 pounds.
He enlisted in the Army on March 23, 1943, and was sent to the "tent city" called Boom Town at Schofield Barracks with the other new soldiers. On March 28, they were given an aloha farewell ceremony at Iolani Palace. On April 4, they shipped out on the S.S. Lurline to San Francisco, followed by a train trip across country to Camp Shelby, Mississippi, to join the 442nd Regimental Combat Team.
After basic training, Yamashita was promoted to Corporal, as reported in the Hilo Tribune-Herald on November 20, 1943. He was assigned to 1st Battalion, D Company, 2nd Platoon. He was one of the volunteers from Camp Shelby who arrived at Anzio, Italy, in 1944 as a replacement to the 100th Infantry Battalion whose ranks had been decimated in the hard fighting of the Naples-Foggia Campaign. He was assigned to D Company, 1st Platoon.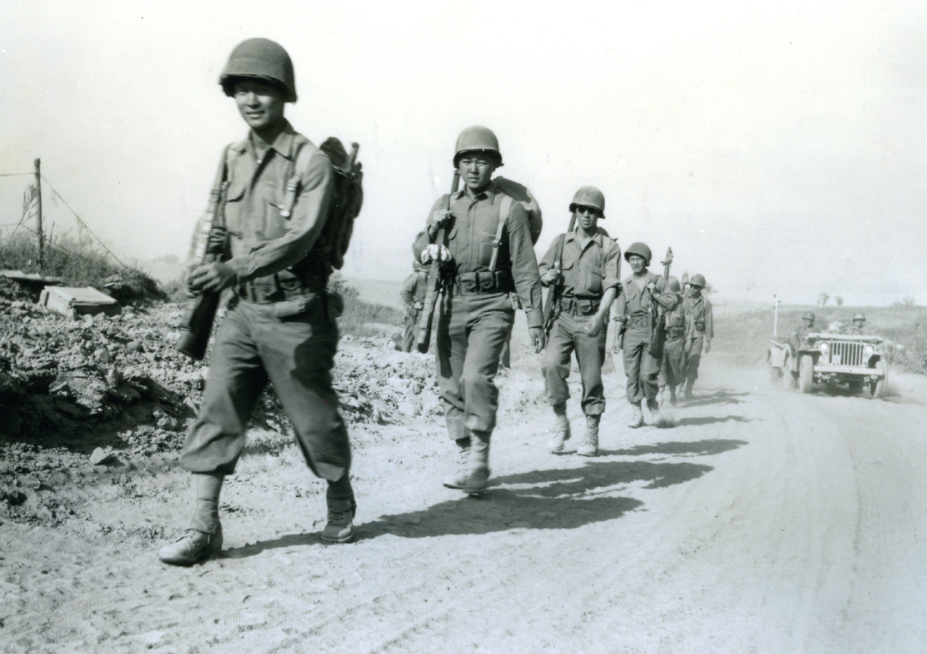 Above:  Yamashita in the lead, Highway 7 Cisterna to Valletri on the way to Rome, May 28, 1944
From Italy, the Combat Team left for Marseilles, France, on September 27, 1944. They were in a bivouac area at Septèmes, near Marseilles, for several days before being transported by rail north to the Vosges Mountains. Yamashita took part in the liberation of Bruyères and Biffontaine. In Bruyères, his hand was injured, but he was able to return to the lines.
On January 13, 1945, S/Sgt. Yamashita's name appeared on a War Department list of men wounded in the European Theater. The list was printed in the Honolulu Advertiser. He was wounded during the rescue of the "Lost Battalion" – the 141st (Texas) Infantry that had advanced too far and was surrounded on three sides by the enemy. He was hit by shell fragments from a "tree burst" – when a German shell shattered a tree above his position. After recovering at a hospital near Plymouth, England, he returned to France and was at Le Havre when the war ended on May 8.
Staff Sergeant Victor Isao Yamashita fought in the Naples-Foggia and Rome-Arno Campaigns in Italy and the Rhineland-Vosges Campaign in France.
On January 9, 1946, Yamashita's name was on a list of 92 Hawaii soldiers at Camp Beale, California who would soon return home. He was among the 484 veterans who arrived at Pier 40-B in Honolulu Harbor on January 22 aboard the USAT U.S. Grant. For the first time, the Royal Hawaiian Band was on the dock to greet the ship. Ladies from the USO had set up tables covered with ti leaves and they served pineapple juice and cookies. Hundreds of family and friends were also on-hand with picnic baskets and lei to welcome the soldiers home.
Victor was discharged from the Army on January 28, 1946, at an Army Separation Center on Oahu.
For his military service, Staff Sergeant Victor I. Yamashita was awarded the Bronze Star Medal, Purple Heart Medal with one oak leaf cluster, Good Conduct Medal, European-African-Middle Eastern Campaign Medal with three bronze stars, World War II Victory Medal, Army of Occupation Medal, Combat Infantryman Badge, and Distinguished Unit Badge with one oak leaf cluster. He also was awarded the Congressional Gold Medal on October 5, 2010, along with the other veterans of the 100th/442nd Regimental Combat Team. This is the highest Congressional Civilian Medal.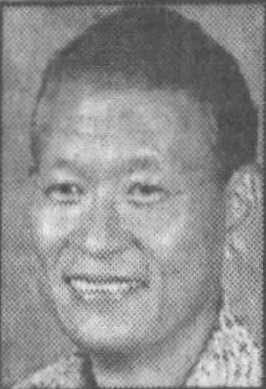 After returning to Hawaii, Yamashita left on the S.S. Matsonia on August 9, 1946, to attend Bradley University in Peoria, Illinois, on the GI Bill. He received a degree in Education in June 1949. After returning to Hawaii, he taught Industrial Arts at Farrington High School in Honolulu for a year before moving to the Big Island, where he taught Metal Shop at Hilo High School.
In August 1951, he married Tomiko Itokazu of Kapaa, Kauai. They settled to Hilo, where they both taught at Hilo High School. On May 27, 1954, Isao officially changed his name to Victor Isao Yamashita, per order of Farrant L. Turner, Secretary of Hawaii.
After many years on Hawaii island, they returned to Oahu, where he was Vice Principal at Kaala and, then, Puuhale Elementary Schools. After working in the Manpower Division at the Department of Education, he became Principal at Puuhale and, later, at Aliiolani Elementary Schools.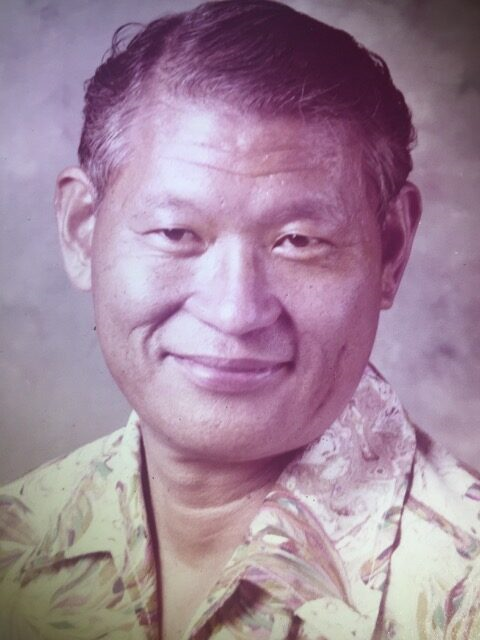 Victor retired in 1980 as Principal of Manoa Elementary School. He became an active member in the Disabled American Veterans (DAV), Chapter 11. He also was a member of the 442nd Veterans Club and Waioli Lions Club.
Yamashita loved to relate war stories to his family. Once he and a comrade, despite being outnumbered, got 30 Germans in France to surrender. They banged on the house, pretending there were many more soldiers.
Victor I. Yamashita died on October 23, 1996. He was inurned in the Columbarium at the National Memorial Cemetery of the Pacific at Punchbowl, CT3-K, Row 500, Niche 545. He was survived by his wife, four sons, and nine grandchildren. Tomiko Yamashita died on March 14, 2008, and was inurned with her husband.
For the transcript of an interview with Yamashita, click on the following link -it's a story you will never forget:
https://www.100thbattalion.org/archives/puka-puka-parades/veterans/soldiers/the-things-that-count/
Researched and written by the Sons & Daughters of the 442nd Regimental Combat Team in 2021.