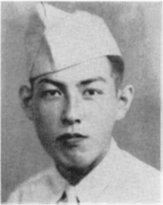 Yasuo Hirayama
Private
442nd Regimental Combat Team
3rd Battalion, M Company
Yasuo Hirayama was born on April 11, 1924, in Hilo, Hawaii island, Territory of Hawaii, to Kiyoshi and Kimiko (Hayashi) Hirayama. He was the second of nine children: sons Katsuki, Yasuo, Kozo, Shiro, and Masataka; and daughters Sadako, Eiko, Hisae, Naomi. Kiyoshi emigrated from the village of Koshi, Kumamoto Prefecture, Japan, arriving in Honolulu on July 15, 1912, aboard the Shinyo Maru. He was enroute to Hilo to join his father, Ehachi, who had arrived 10 years earlier. Kimiko's parents, Katsuzo and Mine (Hayashi), emigrated from Kumamoto Prefecture, Japan, arriving in Honolulu in 1898.
Initially working as an insurance salesman, in 1930 the family lived at 354 Ululani Street and he was a taxi cab driver. Grandfather Ehachi Hirayama lived with the family. By 1940, he was employed in a lumber yard. Kimiko was born in Hawaii. Yasuo attended Hilo Union School, Hilo Intermediate School, and one year at Hilo High School before entering the workforce with the White Star Laundry. He registered for the draft on June 30, 1942, at Local Board 2, Hilo. His next of kin was his father and their address was 354-A Kukuau Street. Yasuo was employed at White Star Laundry. He was 5'5" tall and weighed 125 pounds.
On March 18, 1943, Yasuo enlisted in the U.S. Army. His occupation was listed as a semi-skilled worker in laundry services. He was sent with other inductees to Schofield Barracks on Oahu where he was in the "tent city" nicknamed Boom Town with the other new soldiers who would be part of the 442nd Regimental Combat Team. After a farewell aloha ceremony at Iolani Palace on March 28, they sailed on April 4 on the S.S. Lurline to San Francisco. Following a train trip across the US, they arrived at Camp Shelby, Mississippi, where Yasuo was assigned to 3rd Battalion, M Company.
After over a year of basic, unit, and combat training and field maneuvers, Yasuo left Camp Shelby by train on April 22, 1944, with the rest of the 442nd. They shipped out to Europe from nearby Hampton Roads on May 2, 1944, in a convoy of over 100 ships.
They arrived at Naples, Italy on May 28. The 442nd was in bivouac at nearby Bagnoli for a week, then they boarded LSTs for the overnight trip to Anzio, and a convoy around the recently liberated city of Rome. They arrived at their large bivouac near Civitavecchia, 50 miles from Rome, where they made final preparations for combat in the Rome-Arno Campaign.
On June 26, Yasuo Hirayama entered combat with the Combat Team near Suvereto. During the battles to push the Germans north, Yasuo was wounded. From July 18 to July 22, the battles led to the liberation of the seaport of Livorno. The 2nd and 3rd battalions took up defensive positions around Nuova and Colle Salvetti, established an outpost line, and sent out patrols as far as the Arno River.
On the night of July 22, 3rd Battalion was relieved by the 135th Infantry Battalion and went into reserve status and rest. During the withdrawal from the battle front, Private Hirayama was killed while a passenger in a vehicle accident.
Private Yasuo Hirayama was interred at the U. S. Military Cemetery, Follonica, Plot A, Row 1, Grave 5.
For his military service, Private Yasuo Hirayama was awarded the Bronze Star Medal, Purple Heart Medal, Good Conduct Medal, American Campaign Medal, Europe-Africa-Middle East Campaign Medal with one bronze star, World War II Victory Medal, and the Combat Infantryman Badge. Yasuo was awarded the Congressional Gold Medal on October 5, 2010, along with the other veterans of the 100th/442nd Regimental Combat Team. This is the highest Congressional Civilian Medal.
On August 29, 1944, his family printed a Card of Thanks in the Hilo Tribune-Herald, to the family and friends for support, floral offerings, and gifts during their recent bereavement, especially Isami Yamashita of the AJA Morale Committee, American Legion Post No. 3, and representatives of the Special Service Office.
In 1948, the Army began the process of closing the smaller military cemeteries in Italy and offering the family the choice of reburial at the large U.S. Military Cemetery in Florence or returning home. Yasuo's family chose to have his remains returned. He arrived on December 24, 1948, on the USAT Sinnett to Dock M-3 at Pearl Harbor with 121 other of Hawaii's war dead. Over 700 family and friends were waiting on the pier where the 265th Army Band played Aloha Oe as the ship docked at 8:30 a.m. They were eulogized in a shipside service by the Secretary of Hawaii, Oren E. Long, who said, "We are proud to have had such sons. These men stood the test of action and added a new chapter of American heroism to our history." The caskets were taken to the Army mausoleum at Schofield Barracks awaiting burial arrangements.
Yasuo was returned to Hilo on January 27, 1949, along with four other Hawaii island soldiers, aboard the inter-island steamer Humuulu for burial. They were reinterred with full military honors at 4:00 p.m. on January 29, 1949, at the East Hawaii Veterans Cemetery #1.
Researched and written by the Sons & Daughters of the 442nd Regimental Combat Team in 2022.