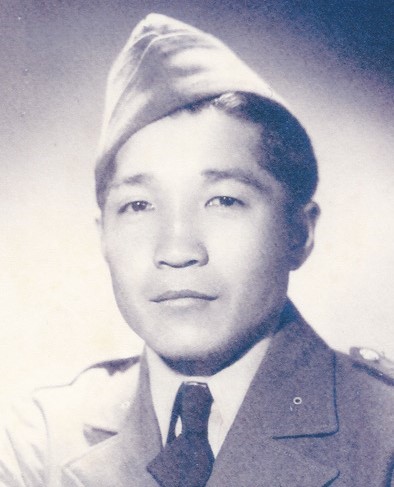 Yeiho Higa
Private First Class
442nd Regimental Combat Team
100th Infantry Battalion, B Company
Yeiho Higa was born on June 19, 1917, at Kailua, Keahua, Maui, Territory of Hawaii. He was one of six children born to Zensei and Kama (Higa) Higa. His brothers were Roland Jenko, Shigeo Allyn, and Richard Isamu; sisters were Yoshiko and Beatrice Yaye. Zensei emigrated from the village of Misato, Nakagami District, Okinawa Prefecture, Japan; arriving at Honolulu on August 26, 1907, on the Hong Kong Maru. Kama (family name Higa) also emigrated from the same village in Okinawa. Zensei worked for the Maui Agricultural Company, maintaining the irrigation ditches and canals for the sugar cane plantation. The family lived at House 1727, Old Kailua Camp, Keahua, Maui.
Yeiho registered for the draft on October 26, 1940, at Local Board No. 3, Paia, Maui. He was employed by the Maui Agricultural Company, and his point of contact was his father. He was 5'2" tall and weighed 113 pounds.
Yeiho was drafted on December 8, 1940, into the Hawaii National Guard. He had finished grammar school. At the time, he and Shigeo were living in a house next door to the family – 1725 Old Kailua Camp. He was among the first contingent of Maui men to enter the Hawaii National Guard under the new Selective Service System. They left Maui on December 9 with a big farewell from family, friends, and the community. Each man was given a crown flower lei and a small American flag.
He was one of 73 Maui guardsmen sent to Schofield Barracks for basic training. On March 15, 1941, he was one of 687 draftees who graduated from the 13-week course at Schofield Barracks and he was assigned to the Reception Center, C Company, 299th Infantry Regiment, Hawaii National Guard, and stationed at Schofield Barracks. Their graduation ceremony was held at Boom Town, where they had been housed at Schofield. It marked the end of their first year of training after induction the previous December.
Following the attack on Pearl Harbor, he was assigned to the Provisional Infantry Battalion of Nisei soldiers when it was formed from the Nisei soldiers of the 298th and 299th Infantry Regiments. On June 5, 1942, the soldiers were sent to Oakland, California, on the USAT Maui. Upon arrival, their unit was given the name 100th Infantry Battalion and sent to Camp McCoy, Wisconsin, on three separate trains taking different routes. After arriving at Camp McCoy, the unit was redesignated the 100th Infantry Battalion (Separate). Yeiho was assigned to A Company, Weapons Platoon.
After six months of training at Camp McCoy, the unit was transferred to Camp Shelby, Mississippi, where combat training continued, along with unit maneuvers at Camp Claiborne, Louisiana. The battalion departed Camp Shelby on August 11, 1943, by train and reached Camp Kilmer, New Jersey, two days later. On August 21, the unit moved by train to Brooklyn, ferried over to Staten Island, and boarded the S.S. James Parker, a troopship recently converted from a banana and tourist freighter. They sailed in a convoy the next day at dusk. On September 2, the battalion landed at Oran in North Africa and was assigned to the 34th ("Red Bull") Infantry Division.
On September 19, 1943, the 100th boarded the attack transport Frederick Funston and arrived offshore of Salerno, Italy, at 8:00 a.m. on September 22. The unit entered combat on September 29, near Salerno.
Yeiho Higa served in the campaigns of the 100th Infantry Battalion. When the 100th became part of the 442nd RCT on June 11, 1944, he was reassigned to B Company.
For his military service, Private First Class Yeiho Higa was awarded the Bronze Star Medal, Purple Heart Medal, Good Conduct Medal, American Defense Medal, American Campaign Medal, Asiatic-Pacific Campaign Medal with one bronze star, European-African-Middle Eastern Campaign Medal with one silver star, World War II Victory Medal, and Combat Infantryman Badge. He was awarded the Congressional Gold Medal on October 5, 2010, along with the other veterans of the 100th/442nd Regimental Combat Team. This is the highest Congressional Civilian Medal.
He returned to Hawaii after 31 months overseas. He was discharged with 46 other returnees from the 100th Battalion of the 442nd at the Army Separation Center on Oahu on May 23, 1945, among the first to arrive home following V-E Day on May 8. Yeiho went to work for the Maui Land and Pineapple Company as a carpenter. By 1949, he was employed by the Honolulu Building and Loan Company.
He married Mitsuko T. Higa, daughter of Seigyoku and Ushi Higa of Puunene, Maui, who emigrated from Okinawa Prefecture. They settled in Haliimaile and raised one son and three daughters. They later lived in Pukalani. He was active in the Maui Chapter of Club 100, the 100th Battalion Veterans Club.
Yeiho Higa died on May 17, 2006, in Kula, Maui. He was a retired carpenter for Maui Land and Pineapple. Higa was survived by his wife, four children, and six grandchildren, brothers Allyn and Isamu, and sisters Yoshiko Ichikawa and Yaye Miyashiro. A daughter who died in infancy in 1954, was inurned with her father. He was inurned at the Maui Veterans Cemetery in Makawao.
His brother, Shigeo Allyn Higa, was a Technician Fourth Grade in 2nd Battalion, F Company, 442nd Regimental Combat Team.
Researched and written by the Sons & Daughters of the 442nd Regimental Combat Team in 2022.