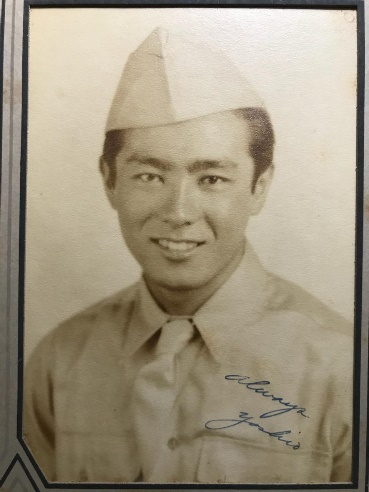 Yoshio Tengan
Private First Class
442nd Regimental Combat Team
100th Battalion, C Company
Yoshio Tengan was born on May 5, 1922, in Lahaina, Maui, Territory of Hawaii. He was the son of Matsusuke and Kama Tengwan. His siblings were sister Yoshiko and brother Hidemi. His parents emigrated in 1906 and 1909, respectively, from Okinawa Prefecture, Japan. Some records give the spelling of his family name as Tengwan.
In 1927, the family went to Japan for a visit. They arrived back in Hawaii on March 19, 1928, on the Shinyo Maru. Their last residence in Japan was the home of brother Kamejiro Tengan in the village of Gushikawa, Nakagami District, Okinawa Prefecture.
In 1930, the family was living at the Honokowai Plantation Camp in Maui, where his father worked on the sugar plantation. Yoshio attended two years at Lahainaluna High School before moving to Honolulu, where he attended and graduated from Honolulu Vocational School. By 1940, the family had gone back to Okinawa, with the exception of Yoshio. He was living with his uncle and aunt, Matsuzu and Matsu Nakamoto, at 2256 (rear) Kamehameha IV Road, on their pig farm.
Yoshio signed his draft registration card on June 30, 1942, Local Board No. 5, Royal School on Punchbowl Street. He was living 1471-D Pele Street, Honolulu. He was employed by Hawaiian Constructors at Melim Station #1. His point of contact was Mr. M. Shimabuku of 1233-G You Lane. Yoshio was 5'5" tall, weighed 130 pounds, and had wavy hair. At some point prior to enlisting, he also worked as a mechanic at Jimmie's Safety Garage in Honolulu.
He enlisted on March 25, 1943, after completing two years of high school. His civil status was "Single," and his civilian occupation was given as "Skilled mechanic and repairman, motor vehicles." According to later records, Yoshio was employed in defense work before he volunteered. Yoshio was sent to Boomtown, the "tent city" at Schofield Barracks, with the other new soldiers. On March 28, they were given a community aloha farewell ceremony at Iolani Palace. On April 4, they sailed on the S.S. Lurline for San Francisco.
After arriving, they travelled by train across country to Camp Shelby, Mississippi. Tengan was assigned to 2nd Battalion, F Company. While at Camp Shelby, he sent his photo to a friend, Miss Dorothy ("Dottie") Aiko Terada, c/o Mushima Fender Shop on South Hotel Street in Honolulu. He signed the photo, "Always, Yoshio." Included in the package for Dottie was a blue silk banner with gold and blue fringe, the American eagle, and the words "Camp Shelby" printed on it. (Note. The banner and its box were preserved by Dottie and are currently in the possession of her family.)
After basic and specialized training and field maneuvers, Tengan was among the soldiers sent to Italy as replacements for the 100th Infantry Battalion in early 1944. The 100th, composed almost entirely of Japanese Americans from Hawaii, had incurred heavy casualties after several months of intense combat in the Naples-Foggia Campaign and was understrength. The 442nd sent three waves of replacements to the 100th.
Yoshio was assigned to the 100th Battalion, C Company. The replacements arrived in early 1944 when the 100th was in Italy.
On June 11, the 100th Battalion was assigned to the 442nd, which had arrived at Naples, Italy, on May 28. The men were all gathered in a large bivouac area at Civitavecchia. The 100th was the "1st" Battalion of the 442nd – as the original 1st Battalion had furnished most of the replacements and had remained at Camp Shelby to train new soldiers, and renamed as the 171st Infantry Battalion.
After his service in Italy, Yoshio went with the Combat Team to France for the Rhineland-Vosges Campaign. They left Italy on September 27 for Marseilles.
After several days at their staging area in Septèmes, just outside Marseilles, on October 10, they moved up the Rhone Valley north to the Vosges Mountains. They arrived in the assembly area at Charmois-devant-Bruyères at midnight on October 13. On October 14, they moved into position to begin their attack the next morning to liberate the important road and rail junction at Bruyères.
The town lay in a valley bordered by four conical hills that the Allies named A, B, C, and D. To take Bruyères, the 442nd had to take the hills. On October 15, the 442nd launched their attack. The 100th Battalion moved out at 8:00 a.m. Its objective was to take Hill A. The Germans had the terrain and the weather on their side. The mountains were more than 1,000' high and were covered with a thick forest of tall pines. The fog and the thick underbrush limited visibility to a dozen yards. By 10:00 a.m. B Company was involved in a firefight with a strong enemy force. C Company then became committed as well. Opposition was too well dug in to be knocked out quickly. The Regiment was able to gain about 500 yards and take twenty prisoners in the day-long battle.
On this day, October 15, Private First Class Yoshio Tengan was killed. It was the first day of the four-day fight to liberate the town of Bruyères.
Pfc. Tengan was buried in the U.S. Military Cemetery at Epinal, France., in Section A, Row 9, Grave 65. His next of kin on the cemetery control form was listed as Mrs. Mildred Lillian Tengwan of 349 East 32nd Street, New York, New York. Notice of his death was sent to Mrs. Edna Shigeko Lee, 1670-D Pele Street, Honolulu, as his parents were residing in Japan at the time.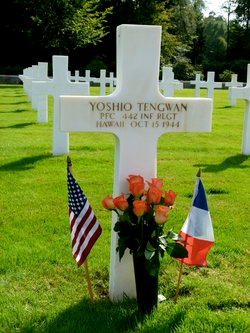 For his military service, Pfc. Yoshio Tengan was awarded the Bronze Star Medal, Purple Heart Medal, Good Conduct Medal, American Campaign Medal, European-African-Middle Eastern Campaign Medal with three bronze stars, World War II Victory Medal, Combat Infantryman Badge, Marksmanship Badge, and Distinguished Unit Badge with oak leaf cluster.  He was awarded the Congressional Gold Medal on October 5, 2010, along with the other veterans of the 100th/442nd Regimental Combat Team.  This is the highest Congressional Civilian Medal.
On November 19, 1944, at 2:00 p.m. a service was held for Tengan at Jikoen Mission in the Kalihi neighborhood of Honolulu. The service was sponsored by his uncle, Matsuzu Nakamoto of 226-A Kamehameha IV Road.
On December 9, 1945, Yoshio was among the 226 war dead honored at a memorial service held at 1:30 p.m. in the McKinley High School auditorium, Honolulu. Lt. General Robert C. Richardson Jr. gave the main address. The service was sponsored by the 100th Battalion veterans club, the 442nd RCT veterans club, the Women's War Service Association, and the Emergency Service Committee.
At some point, his parents may have returned to Hawaii. A Tengan family stone was erected in the Haka Garden section of Valley of the Temples Cemetery, Kaneohe, Oahu, Hawaii. Most of the inscription is in Japanese. The names of father Matsusuke (1880-1972) and Yoshio (1922-1944) are on the stone.
Researched and written by the Sons & Daughters of the 442nd Regimental Combat Team in 2022.