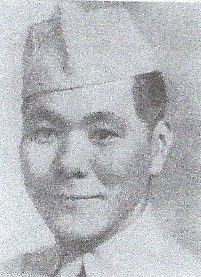 Yoshito Jack Takayama
Private First Class
442nd Regimental Combat Team
3rd Battalion, K Company
Yoshito Takayama was born on April 1, 1917, in Ookala, north of Hilo, Hawaii island, Territory of Hawaii. He was one of five sons and five daughters of Shojiro and Oishi (Fujii) Takayama. His parents had emigrated from Kawasamura, Hiroshima Prefecture, Japan, on the SS Korea Maru; arriving in Honolulu on November 12, 1907. They were married in Japan and had one child born there before emigrating. Yoshio's siblings were: Sakuichi, Ethel Haruko, Mitsue, Dorothy Shizue, Mae Toshiko, John Nobuo, Tadao, Toyoko, and Teruo.
Yoshito attended Ookala Elementary and Laupahoehoe Intermediate Schools before the family moved to Waiakea Camp #5, another plantation camp on the outskirts of Hilo. He graduated from Hilo High School in 1936, where he was an excellent swimmer and also loved bowling.
In 1940, he was living with his employer, Kazuo Edward Yano, at the Hilo Furniture Co., 302 Kamehameha Avenue, and working as a delivery man. When Jack, as he was also known, signed his draft registration card in Hilo on October 26, 1940, he was still employed by and lived with Yano. Jack was 5'4-1/2" tall and weighed 116 pounds.
Jack enlisted in the U.S. Army on March 27, 1943. He was sent to Schofield Barracks for initial training, was at the community aloha farewell ceremony at Iolani Palace on March 28, and shipped to San Francisco on April 4 on the S.S. Lurline with the rest of the new soldiers. He was on the cross-country train trip to Camp Shelby, Mississippi, where he underwent basic and combat training. He was assigned to the 3rd Battalion, K Company.
After a year of training, on April 22, 1944, he left with the Combat Team for Camp Patrick Henry, Virginia. On May 4 they shipped out from nearby Hampton Roads, Virginia, in a large convoy of ships carrying the men of the 442nd to the Mediterranean Theater of Operations. They arrived on May 28 at Naples, Italy, and went to Staging Area #4 at nearby Bagnoli to prepare for entry into the combat zone.
On June 6, they went to sea again on LSTs, arriving at the Anzio beachhead the next morning. On June 9, they moved out in a convoy through Rome, finally arriving at a bivouac area near Civitavecchia the next night. After over two weeks of further training preparing them for battle, they entered combat on June 26 near Suvereto in the Rome-Arno Campaign. By July 3, they had pushed the enemy 62 miles to a point just north of the Cecina River. The main line of resistance was a hill that the Allies called "Hill 140." The battle to take this position was so intense that it was nicknamed "Little Cassino," in reference to the devastating battle of Monte Cassino south of Rome. The battle raged for five days, with many casualties. On July 5, furious firefights raged all through the day as both sides sparred for an advantage. On July 5, Companies E, F and G jumped off in line against Hill 140 and the long ridge that ran west from the summit toward the sea. By the end of July 7, the last German resistance was battered into submission. Takayama was wounded in action at Hill 140, just north of the Cecina River and west of the town of Castellina, on July 7, 1944, and taken to a field hospital. His injuries were a result of "artillery shell, fragments, afoot." He died that day and was buried in the U.S. Military Cemetery at Follonica.
The notice of Jack Takayama's death appeared on August 8, 1944 in the Honolulu Advertiser. The article noted that he and his brother, Nobuo John Takayama, who was killed three days earlier in Italy, were believed to be the first 442nd brothers from Hawaii to be killed in combat.
A joint memorial service was held for the Takayama brothers at 2:00 pm on August 20, 1944, at the Hilo Hongwanji Mission. His parents received his military decorations after his death – the Purple Heart and the Combat Infantryman Badge.
For his military service, Private First Class Yoshito Jack Takayama was awarded the Bronze Star Medal, Purple Heart Medal, Good Conduct Medal, American Campaign Medal, European-African-Middle Eastern Campaign Medal with one bronze star, World War II Victory Medal, and Combat Infantryman Badge. Jack was awarded the Congressional Gold Medal on October 5, 2010, along with the other servicemen of the 100th/442nd Regimental Combat Team. This is the highest Congressional Civilian Medal.
The Waiakea-uka Athletic Club dedicated a large stone memorial on May 3, 1946, to the five soldiers of the Waiakea-uka Camp who lost their lives in Europe. The memorial was placed in the small camp cemetery on the outskirts of Hilo. The soldiers memorialized were: Kazuo Goya, Nobuo John Takayama, Yoshito Jack Takayama, Hidetoshi Tokusato, and Yoshio Jacob Yoshimura.
In 1949, families were given the choice of having their soldier's remains moved from the many U.S. military wartime cemeteries across Italy and reburied in the large cemetery in Florence – or returned home. Jack's parents chose the latter and his remains were sent to Hawaii in early 1949. He was buried in the Hawaii Veterans Cemetery in Hilo on August 17, 1949.
On August 21, his family printed a Card of Thanks in the Hilo Tribune-Herald to recognize the family and friends who sent floral offerings and kind expressions of sympathy following the funeral and burial. They especially thanked the Kumiai Section 1; AJA Veterans Council; Waiakea-uka Veterans Club; American Legion Hilo Post No. 3; American Legion Annex; Hilo Betsuin; Kamehameha Garment Co., and Waiakea-uka Civic Club.
His father Shojiro Takayama, of 2412 Kinoole Street, Hilo, applied for his military tombstone on August 24, 1949.
Jack's brother Nobuo Takayama also served in the 442nd RCT, L Company.
Researched and written by the Sons & Daughters of the 442nd Regimental Combat Team in 2021.