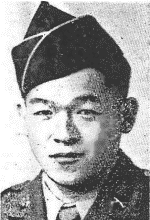 Yukio Sato
Private First Class
442nd Regimental Combat Team
3rd Battalion, I Company
Yukio Sato was born on December 12, 1919, in Seattle, Washington, to Chusuke and Nami (Susuki) Sato. He was the oldest of four sons: Yukio, Tadao, Frank, and Kazuo. His father emigrated from Kawafusa, Fukushima Prefecture, Japan, arriving in Seattle on October 19, 1907, on the Aki Maru. Chusuke and Nami were married in Fukushima on January 26, 1917. Nami subsequently emigrated from the village of Odaka, Soma District, Fukushima Prefecture, arriving on February 24, 1919. In 1940, the family lived at 303 John Street in Seattle, and they ran a retail grocery store.
Yukio attended Warren Avenue Elementary School and graduated from Queen Anne High School. He was a member of Seattle Dojo, the oldest judo club in the United States.
He registered for the draft on July 1, 1941, at Local Board No. 5 in Seattle. He was employed as a track worker for the Great Northern Railroad, Spokane Division, in Chelan. His father was his point of contact and they lived at 325 John Street. Yukio was 5'2" tall and weighed 115 pounds.
In May 1942, the family was evacuated to the Puyallup WCCA Assembly Center located on the Puyallup Fairgrounds property. They were incarcerated on August 18, 1942, in the Minidoka WRA Relocation Center in Jerome County, Idaho.
While at Minidoka Camp, Yukio volunteered in February 1943 to serve his country. He left Minidoka on May 21, 1943, and enlisted in the Army on May 22 at Fort Douglas, Utah. He traveled by train with 14 other new volunteers to Camp Shelby, stopping in Kansas City's Union Station where they made the news. Their group leader explained the interval between volunteering and being inducted, "We had to be checked over by the FBI."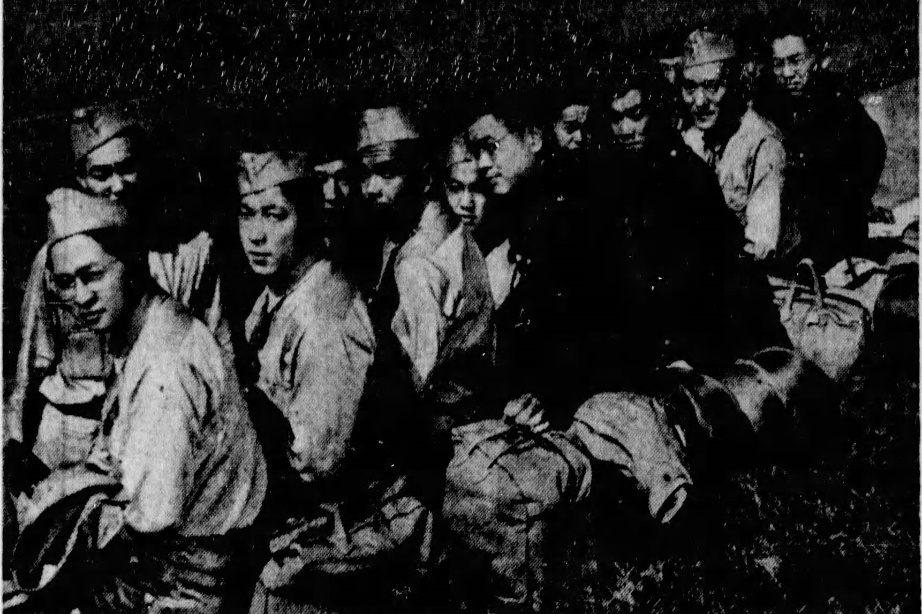 Above:  Yukio and other Minidoka volunteers in transit by train to Camp Shelby
After basic training, Yukio was assigned to 3rd Battalion, I Company. He was the runner for 2nd Platoon, and his duty would be to act as a liaison between his platoon and the I Company command post.
After a year of training, the 442nd left Camp Shelby for Camp Patrick Henry, Virginia, on April 22, 1944. They shipped out from nearby Hampton Roads to the Mediterranean Theater of Operations in a large convoy of troop ships on May 2 and arrived in Naples, Italy, on May 28.
Yukio participated in the Rome-Arno Campaign, entering combat on June 26 near Suvereto, north of Rome. On July 18, 1944, the battle to take Livorno from the Germans was successful. The 2nd and 3rd Battalions continued to pursue the enemy's disorganized rear guard.
The town of Colle Salvetti, situated on the last high ground before the Arno River, was seized the next day – July 19, 1944. Yukio was killed by sniper fire during this engagement.
Private First Class Yukio Sato was buried in the U.S. Military Cemetery at Follonica, Section K, Row 113, Grave 1354.
For his military service, Private First Class Yukio Sato was awarded the Bronze Star Medal, Purple Heart Medal, Good Conduct Medal, American Campaign Medal, European-African-Middle Eastern Campaign Medal with one bronze star, World War II Victory Medal, and Combat Infantryman Badge. Yukio was awarded the Congressional Gold Medal on October 5, 2010, along with the other veterans of the 100th/442nd Regimental Combat Team. This is the highest Congressional Civilian Medal.
Yukio's mother, Nami Sato, died at Minidoka on June 10, 1945. His father, Chusuke, was released from Minidoka on July 26 to go to Chicago, Illinois. Younger brother Tadao Sato was serving as a Private First Class in the 442nd's Cannon Company. At the time, he was serving in the occupation of Italy and attending a University of Florence Study Center program for 442nd soldiers. While returning to his unit from Florence, he was involved in a jeep accident and died from his injuries on August 26, 1945. Pfc. Tadao Sato was buried at the U.S. Military Cemetery at Castelfiorentino.
In 1947, many war dead were returned home from military cemeteries in Europe, if the family so wished. Consequently, both brothers were returned to the US.
On December 11, 1947, the two brothers, Pfc. Yukio Sato and Pfc. Tadao Sato, were buried during a joint funeral service in the Veterans Section of the Evergreen-Washelli Memorial Park, Seattle, with four others – Pfc. Akira Kanzaki, Pfc. William Kenzo Nakamura, Pfc. Hisashi Iwai, and Pvt. Isao Okazaki, all of whom served with the 442nd Regimental Combat Team. The funeral was attended by 1,200 people. Four clergymen alternately conducted the Buddhist and Christian rites in Japanese and English. A color guard from the Greenwood Memorial Post 5864, Veterans of Foreign Wars, fired three volleys in salute, followed by Taps.
On April 20, 1954, Yukio's father, Chusuke Sato, became a US citizen.
Researched and written by the Sons and Daughters of the 442nd Regimental Combat Team in 2021.