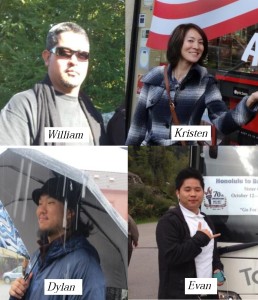 Honolulu – May 16, 2014. The following article was printed in The Hawaii Herald – Hawaii's Japanese American Journal (Vol. 35. No. 10).
THE NISEI SOLDIERS — THROUGH THEIR GRANDCHILDREN'S EYES
Yonsei's Pilgrimage to Their Grandfathers' Battlegrounds Stirs a Sense of Legacy
 Editor's note: The following is an edited transcript of a "talk story" session among four yonsei whose grandfathers served in the 442nd Regimental Combat Team in World War II. Last October, they joined their parents on a pilgrimage to Europe, where, among other sites, they visited the former Dachau concentration camp in southern Germany, and Bruyeres, France.
Almost 70 years ago, Nisei soldiers from the 442nd RCT had helped to liberate Nazi-held prisoners at Dachau and to free the small town of Bruyeres in the Vosges Mountains of northeastern Frances from Nazi control. The Vosges campaign, which included the now-famous rescue of the Texas "Lost Battalion," was a costly one for the 442nd — 161 AJA soldiers lost their lives and 925 were wounded, injured or declared missing in action.
Hawai'i Herald advertising manager Karlton Tomomitsu, whose late father served with the 442nd, had hoped to join the tour, but was unable to, so he met with these four yonsei recently (there were nearly a dozen) to hear their impressions of the trip. With their permission, he recorded their conversation. I edited the transcript, extracting the most poignant impressions of these four young people.
Kristen Nemoto and William Holck, both 29, are cousins, and grandchildren of Wilbert "Sandy" Holck, who was a hapa member of the 442nd. Sandy Holck, a former Honolulu City Council member, played a pivotal role in establishing Honolulu's sister-city relationship with Bruyeres in 1961. Kristen, who earned her master's in journalism from DePaul University, is a writer for a travel magazine. Cousin William graduated from Castle High School and the Conservatory of Recording Arts and Sciences in Phoenix, Ariz., and is a utility assistant for Hawaiian Electric Company.
Dylan Yamashita, 30, and his brother Evan, 28, are the grandsons of Victor Isao Yamashita. They traveled to Europe with their father, Byrnes Yamashita. Dylan graduated from the University of Washington and is a landscape designer. Evan is a UH graduate with degrees in Japanese language and business (Travel Industry Management). He works as guest services manager for The Royal Hawaiian Resort.
Our thanks to Kristen, William, Dylan and Evan for allowing us to share their perspectives with our readers.
 WILLIAM:  [My] expectations weren't too great. I didn't know too much about 442nd. It was a trip to go to Europe for me. Being there changed my view of everything, what they did, the places they went to, the things they had to endure while they were there . . . . I learned a lot about what my grandfather did and the impact that it had on World War II and Japanese Americans, not only in Hawai'i, but on the Mainland, as well — how they had to go to concentration camps. Things like that we would never know if we didn't take interest in it.
To go and see all the memorial sites, the graveyards, all the places where they fought . . . We experienced some cold weather, but I heard that it was worse when they were actually there fighting. We had our last parade in Bruyeres — we walked through; it was rainy and cold, at least for us guys from Hawai'i. They said it was nothing compared to what it was like when they fought at Bruyeres [in October/November 1944].
Epinal, that was the biggest thing for me. That was the eye-opener. Going and seeing the graves, and they had all those names on the wall of the people they didn't get to bury because they were missing. There were thousands of names. That hit really close. It was a very emotional part. Seeing the names of soldiers that went missing or were never heard from again. Thousands of names and graves. The curator was nice enough to point out which one of them were 442nd graves. There were a bunch of them.
KRISTEN:  Like William, I had an idea of the 442nd and I had an idea of what our grandpa had done. We had heard stories growing up, but it was nothing compared to actually being there among the people, actually being in the woods, exactly where they fought; down below, where the town was being taken over. Just seeing that — it was very surreal. You feel so much more connected and humbled to your past. For me, it was extremely eye-opening.
WILLIAM:  We were actually stepping on the grounds that they walked.