The Flight of the Anti-Tank Company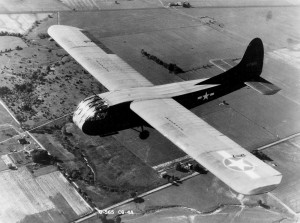 (photo courtesy of the U.S. Army)
The 442nd Regimental Combat Team was an U.S. Army infantry unit, as we the friends and family of the 442nd veterans know. Not all may know, however, that just weeks after the 442nd arrived in Italy and entered combat in June of 1944, the men of the Anti-Tank Company were separated from their 442nd brethren to be trained as glider troops taking to the air to transport anti-tank guns, Jeeps and ammunition. Here are some details of the flight of the Anti-Tank Company.
For general background, the 442nd HQ, 2nd and 3rd Battalions had all arrived in Italy by mid-June 1944. The battle hardened 100th Infantry Battalion was attached to the 442nd RCT on June 11. The 442nd RCT then entered combat in Italy on June 26 near Suvereto and continued this phase of fighting until July 24. Within this context, the Anti-Tank Company was detached from the RCT on July 16 for a secret mission in support of Operation Dragoon, the invasion of Southern France by Allied troops.
The men of Anti-Tank Company learned that they were assigned to glider training. They had to learn how to load and lash down equipment in the gliders, and the gliders would be used to transport the entire Company with British-made anti-tank guns in to the battlefield. They did this training near Rome.
Then on August 15, as part of the 517th Parachute Infantry Regiment, 1st Airborne Task Force, the men of Anti-Tank Company loaded into the gliders, were pulled by U.S. aircraft from Italy to Southern France and landed in the fields and in the trees around Le Muy, France. There were injuries, especially to the pilots of the gliders that were transporting the Company. The 517th paratroopers had preceded the Anti-Tank Company to secure the landing areas, and these infantry men suffered casualties.
The Company was able to set up their guns and for two months after their glider flights guarded the 517th Parachute Infantry Regiment and the flank of the U.S. 7th Army. The Anti-Tank Company is the only unit in the 442nd to receive the Glider Badge.
Read the words of veterans of the Anti-Tank Company in these links:
https://nisei.hawaii.edu/object/io_1149148189765.html (accessed 7/8/2017)
https://www.100thbattalion.org/archives/newspaper-articles/ben-tamashiro/the-antitank-company-442-rct/ (accessed 7/8/2017)
https://www.goforbroke.org/learn/history/combat_history/world_war_2/european_theater/southern_france_campaign.php (accessed 7/8/2017)