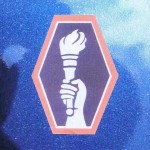 From the Go For Broke Bulletin Archives, here is an article on a tour of Italy and France taken in 2004 to see former battlefields and remember the the challenges that were faced and honor the memories of the fallen.
Go For Broke Bulletin Volume 55, No. 3 – April – June 2004
The Battlefields Tour:  May 2004
By Sadaichi Kubota & Andy Ono 
The Italian Phase of the Tour:
I could not resist the K Co sponsored tour – May 18 – June 3 – because I had promised myself I would one day make the pilgrimage to honor our buddies who fell along the way.