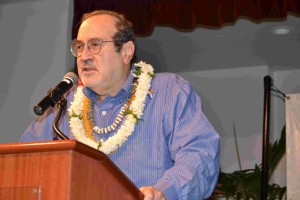 Honolulu, Hawaii – March 23, 2014. The 442nd Veterans Club held their 71st Anniversary Banquet in honor of the formation of their Unit. Over 600 veterans, family members and guests attended this memorable event, which was filled with lots of speeches and entertainment. Military historian and curator, Eric Saul delivered the keynote speech. Here is a copy of his inspiring speech:
Go For Broke: Japanese American Soldiers Fighting on Two Fronts 
Speech for 442nd RCT 71st Anniversary Reunion
Honolulu, Hawai'i, March 23, 2014 
By Eric Saul
"I think we all felt that we had an obligation to do the best we could and make a good record.  So that when we came back we can come back with our heads high and say, 'Look, we did as much as anybody else for this country and we proved our loyalty; and now we would like to take our place in the community just like anybody else and not as a segregated group of people.' And I think it worked."
– Nisei solder, Camp Shelby, Mississippi
"Hawaii is our home; the United States our country…  We know but one loyalty and that is to the Stars and Stripes."
– Nisei solder, volunteering for the U.S. Army
Who were you?  First of all, you were Americans.  You happened to be of Japanese ancestry.  You were called Nisei.  You were second generation, born in the United States.  Most were born in the 1920s.
Where were you from?  You were from Hawaii, Oahu, Maui, Kauai, Big Island.  You were also from California, Oregon and Washington.  You grew up in cities like Honolulu, Los Angeles, Portland, Seattle, Sacramento, Fresno, and San Jose.  You grew up in neighborhoods like Boyle Heights, the Palama District, and others.  You lived in hundreds of small farming towns in the Western United States.  You lived in the Little Tokyo's and Japantown's of the big cities on the West Coast.  Here in Hawaii, you grew up on plantations with funny-sounding names like Hanapepe, Pu'unene and Lihue, where you toiled in the hot sun, helping your parents to harvest and process the sugar cane and pineapples.
You went to schools like McKinley, Garfield, and Roosevelt High School, named after great presidents. 
You were raised to be Americans.  As American as apple pie and hot dogs.   You studied the Constitution, the Bill of Rights, and American history.  Every day, you pledged allegiance to the flag.  You learned and were taught that you could aspire to anything that you dreamed.  You were proud to call yourselves Americans.  And you were proud to call yourselves Americans of Japanese Ancestry.
After school, you most often reluctantly attended Japanese language school.  You resented having to sit in a classroom rather than playing baseball, football or basketball.
The Japanese attack on Pearl Harbor was a brutal blow.  You were soon reminded that your faces were not like other Americans—you had the face of the enemy and all that it represented, but truly you had the heart of an American.